INTERNATIONAL BUILDING EXHIBITION VIENNA 2022
June 23 – Nov. 18 2022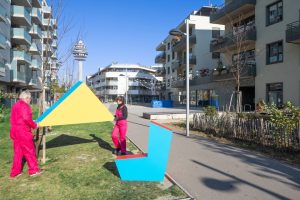 The time has come! The IBA_Vienna 2022 – New Social Housing started its final presentation on June 23, 2022. Numerous new developments on the subject were planned, a large part of them has been implemented, and so the built projects will now become the actual exhibition objects. From 23 June to 18 November 2022, the results that are now available will be presented to the public.
Throughout the entire period, there will be an exhibition in the Nordwestbahnhalle, an extensive programme as well as guided tours and walks through IBA neighbourhoods and IBA projects to explore the processes and results of the Vienna International Building Exhibition 2022.
More details on How Will We Live Tomorrow? can be viewed HERE.