The public exhibition will host seminars and events across three Dublin locations
Dublin, 1st April 2019  The pioneering Vienna Model of Housing will be the subject of a month long exhibition, taking place from Monday 1st to Thursday 25th April across three Dublin venues. The public exhibition is a joint partnership between the Dublin City Council, Housing Agency, City of Vienna and will feature a number of seminars and events to introduce a wider debate on housing futures in Dublin and nationally.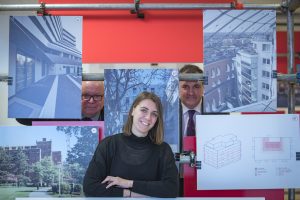 Exhibiting in CHQ in Dublin's Docklands, The Rediscovery Centre, Ballymun, and Richmond Barracks in Inchicore, the Vienna Model of Housing is internationally regarded for its continued achievement of sustainable, high quality residential development using a cost-rental approach that in effect delivers housing for all. The model adopts a general needs approach to housing provision and delivers secure, long-term, high-quality and innovative public rental housing in well designed, adaptable and inclusive neighbourhoods.
Accompanying seminars will support discussion of integral elements of the Vienna Model such as managing population density, public housing as a sustainable solution and cost-rental.
Identified as a significant component within the Viennese Model, cost-rental works to achieve sustainable prices, disrupting the link between price and market values and moderating the boom-bust cycle. This is credited with helping to create housing at a cost that people can afford.
Brendan Kenny, Deputy Chief Executive of Dublin City Council said of the exhibition, "Our plans for future housing investment must adopt a holistic view capable of fostering a socially integrated society living in sustainable and affordable housing. These are key concerns for Dublin City Council and we are excited to welcome the Vienna Model exhibition and our high calibre speakers over the coming weeks to share their insights on how we continue to make Dublin a great place to live in. The Vienna Model of Housing is the living proof that demonstrates how providing high quality, affordable housing is the basis for an inclusive, thriving, healthy society."
John O'Connor, CEO of the Housing Agency, commented, "The Housing Agency is delighted to co-sponsor the Vienna Model exhibition and the associated seminars. Our intention, when we originally thought of bringing the exhibition to Ireland, was to show what has been achieved in Vienna and to share it widely."
John O'Connor added, "We believe the exhibition and associated events provide a timely opportunity to consider in detail a successful housing model that has contributed to making Vienna such an attractive and well-loved city for both its citizens and for visitors. As we face the considerable challenge of providing affordable housing, for many of our own citizens, there is much to learn from our European counterparts and from Vienna, in particular. "
Dr Dáithí Downey, Head of Housing Policy Research and Development with Dublin City Council, "We are looking forward to a robust discussion on all Ireland's housing futures and this exhibition and programme will support engagement with communities on important matters of sustainable urban development, citizen participation, the use of public spaces and art and how to better use our existing housing stock."
Discussing the success of the Vienna Model of Housing, Executive City Councillor for Women's Issues & Housing, City of Vienna, Kathrin Gaál, said, "Providing affordable housing in Vienna has been a political priority since 1919. Compared to other cities, rents and land prices in Vienna have not solely been determined by the market. Vienna's allocation guidelines ensure that higher income earners and the middle class can access the public housing sector."
Kathrin Gaál added, "That is what's special about Vienna. What makes us most proud is that you cannot tell how much someone earns simply by looking at their address."
The Vienna Model of Housing Exhibition is open to the public and will be hosted in CHQ in Dublin's Docklands from 1st to 7th April, The Rediscovery Centre in Ballymun from 10th to 13th April and Richmond Barracks from 15th to 25th April. Free seminars and free children's workshops will take place across all venues.
Register for seminars and workshops online at www.HousingModelDublin.ie.
ENDS