The Vienna Model of housing is internationally regarded for its continued achievement of sustainable, high quality residential development using a cost-rental approach that in effect delivers housing for all.
This inspiring exhibition visited Dublin for the first time in 2019. The exhibition centred on sixty prototypical Viennese projects from the last hundred years, with a special focus on the public art that has complemented Vienna's housing since the First Republic. It presents architectural images and information, videos and works of art on scaffolding arranged across ten chapters.
The exhibition was on display in three locations throughout April 2019, and was free to attend. It was supplemented by a number of seminars and workshops. These were also free.
The exhibition later opened to the public for the month of July 2019 in the Atrium, Dublin City Council Civic Offices, Wood Quay, Dublin 8.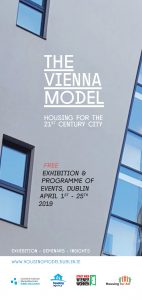 Download April Programme (PDF)