The Rediscovery Centre will host the exhibition, with accompanying seminars and public events until Saturday 13th April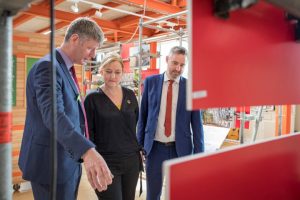 The Vienna Model of Housing exhibition will host discussions on the development and skills required for successful housing investment, as well as the community and environmental strategies required to support a holistic approach for the provision of housing for all, as it continues in the Rediscovery Centre, Ballymun this week. The internationally renowned model of public housing is the subject of a month-long public exhibition.
The visiting exhibition is a joint partnership between the Dublin City Council, the Housing Agency and City of Vienna and features a number of seminars and events over the month of April that aim to inform  a wider debate on housing futures in Dublin and nationally.
Chosen as the second location for this inspiring exhibition, Ballymun is increasing its share of new capital investment as it grows under Dublin City Council's local area plan (LAP). Alongside forthcoming large scale transport, retail and related infrastructure investments Ballymun has capacity for the delivery of 2,000 new housing units.
Led by Ballymun community and business leaders, seminars taking place today and Friday will examine how Dublin City Council lands and assets in the North Dublin area can be best utilised for the local community. The two-day symposium supports engagement with local businessness, communities and public services on important matters of the role of housing investment in delivering sustainable, affordable housing to underpin the ongoing sucessful regeneration of Ballymun. It will address related issues of employment and skills, specifically questioning what supports are required by local enterprises to improve Ballymun's appeal as a place to work and live and how Dubiln City Council can work in partnership using joint ventures to enable this.
Dr Dáithí Downey, Head of Housing Policy, Research and Development with Dublin City Council, said, "Housing-led investment is a core component of Dublin City Council's current Development Plan. Confidence in Ballymun's potential for new living and
working is shown by the recently commenced development by supermarket group, Lidl, that will result in a major new retail development for the area. Accompanying this development will be new residential housing for third level students, providing between 300 and 400 units within a building of between four and eight storeys."
"Significantly, additional new investment and employment opportunities continue in the area with French sports and lifestyle company Decathlon's recent announcement of their Sports Hub development with over 70 sports located in Ballymun. Also, the site of the old Ballymun shopping centre is now the proposed location for an underground station of the Dublin Metro rail line currently under public consultation, while a second Dublin Metro stop is proposed for nearby Northwood adjacent to IKEA's flagship Irish retail outlet in Ballymun."
Downey continued, "All this current and future investment in transport and retail
infrastructure supports the social and economic returns available for our future housing investment in Ballymun too. To make this work we must adopt a holistic view on housing investment capable of fostering a socially integrated society living in good quality, affordable and sustainable housing that is available for all."
John O'Connor, CEO of the Housing Agency, commented, "We must focus on public investment to support communities creating good places to live. Cost rental public housing should be a major part of the housing we provide."
"Cost rental housing is where long-term secure rental homes are built where rents are based on the costs of provision. This can achieve homes that are affordable and secure in good quality, living communities."
The Vienna Model of Housing is internationally regarded for its continued achievement of sustainable, high quality residential development using a cost-rental approach that in effect delivers housing for all. The model adopts a general needs approach to housing provision and delivers secure, long-term, high-quality and innovative public rental housing in well designed, adaptable and inclusive                                                                                           neighbourhoods.
In addition to the public exhibition which showcases the development of the Vienna Model of Housing, a number of screenings will take place of Frank Berry's documentary, 'Ballymun Lullaby', which follows the early days of the Ballymun Music Programme for local schoolchildren. Children are also invited to take part in specifically designed workshops which explore engineering, building and the environment.
The Vienna Model of Housing Exhibition is open to the public and will be hosted in The Rediscovery Centre in Ballymun from 10th to 13th April and Richmond Barracks from 15th to 25th April. Free seminars and free children's workshops will take place across all venues. Register for seminars and workshops online at www.HousingModelDublin.ie.
For more information: www.HousingModelDublin.ie
ENDS
Notes to the Editor
The Dublin Housing Observatory is an initiative of Dublin City Council. Underway since July 2018, the mission of the Dublin Housing Observatory is to is to make Dublin city an affordable and sustainable place to live by ensuring its housing and urban development strategy, policy and practice is underpinned by robust evidence and data.
The Housing Agency was set up in May 2010 to work with and support, local authorities, approved housing bodies, and the Department of Housing, Planning and Local Government in the delivery of housing and housing services. The Housing Agency's vision is to enable everyone to live in good quality, affordable homes in sustainable communities.